WATCH: Radio Free Afghanistan correspondent Sayedjan Sabawoon asked Afghans across the country how they remember September 11, 2001, and how those events have changed their lives.
By RFE/RL
KABUL -- In America, it's difficult to find anyone who doesn't know precisely where they were on 9/11.
Not so in Afghanistan. There, many people never heard the news of those coordinated attacks a decade ago, or, if they did, had little sense that it would dramatically change their world.
That change came 26 days later, when the U.S. invoked the self-defense clause of NATO's charter and led a military intervention in Afghanistan.
That campaign, starting October 7, 2001, first toppled the hard-line Taliban regime then brought more than 100,000 foreign soldiers to Afghanistan in a continuing effort to stabilize the country.
So perhaps it should be no surprise that Americans and Afghans tend to think of 9/11 differently.
While Americans see 9/11 as the reason U.S. forces deployed to Afghanistan, many Afghans see it as only part of a larger story. And that larger story, as correspondents quickly find out, can take many different and even bizarre forms, depending on who you talk to.
"I was in Peshawar [in neighboring Pakistan] when I heard that in America they had attacked skyscrapers," says one man in Wardak Province, southwest of the Afghan capital, Kabul. "I saw it on television and heard about it on the radio. What can I say? You know what happened next. The world came to Afghanistan because they said the Taliban and the Muslim Brotherhood attacked the buildings. But the Muslims don't accept that and think the Americans did it themselves."
Questions Abound
The man, who does not give his name, is sitting along the main highway that links Wardak Province to Kabul, near a truck stop -- a place where drivers rest, cargo is offloaded for local distribution, and he ekes out a living as a small shopkeeper.
He says he is one of the hundreds of thousands of people who were living as refugees in Pakistan at the time of the attacks and, following the toppling of the Taliban, returned to Afghanistan to build a new life.
But while he welcomes the toppling of the Taliban, which ruled with an extreme interpretation of Islam and an iron fist, he does not see the international presence in Afghanistan as either justified by 9/11 or in the interest of the Afghans themselves.
And he suggests ulterior motives. "It had a negative effect," the man says, "because many kafir [non-Muslim] countries came to Afghanistan and maybe some Muslims, too, because Turkey also came, and now you see the result. There is no work."
He goes on to question the thoroughness of the international forces' commitment to rooting out the Taliban.
"If I say to you that during the Taliban security was OK, you should accept that; but now you see in Kabul there are lots of warlords," he says. "I am not pro-Taliban, but I ask the Americans and others why they left the Taliban in power in some places such as Helmand Province instead of wiping them all out."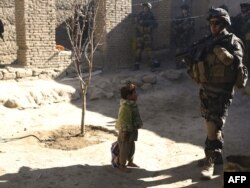 An Afghan child watches as French soldiers along with unseen members of the Afghan National Police (ANP) search house-to-house in Jalokhel in Kapisa Province, Afghanistan, in January 2010.
In Afghanistan, there is a common conspiracy theory that 9/11 was a pretext for the United States to invade the country and that U.S. forces do not destroy the Taliban because Washington needs an ongoing justification for occupation. This man does not, or cannot, say what the foreigners want in Afghanistan; but any notion they are here to help is outweighed by the continuing insecurity and lack of economic opportunities.
If America really wanted the war to end in Afghanistan, he says, it would give work to the people with big projects like dams and irrigation systems. Then, he says, the Taliban would not be able to make a comeback and people wouldn't go over to their side.
'What's The Sense?'
It would be easier to ignore such a string of complaints and hints of conspiracy theories if they were not so widespread. Stop at virtually any roadside resting place, north, south, or east of Kabul, and there is more of the same.
At a truck stop in Logar Province, directly south of the capital, Jan Mohammed can't remember where he was on 9/11. What he thinks about it is heavily influenced by all that has followed.
"I don't know where I was during this attack because I was working as a laborer in Islamabad [Pakistan], but later I saw it on television," Jan Mohammed says. "It brought us nothing good, everything is against us and we have lost a lot. The American and international forces came and as a result we lost a lot of relatives and friends in the war. Every day tens of our people die, while the international forces have brought nothing good for us, including any work."
For him, the international force's efforts would be justifiable if they brought factories, electricity, water, and security. But without any of those things in sight where he lives, his answer to our question about what he knows about 9/11 and the reasons foreign forces are here is simply to pose a question of his own: "In one direction, there is fighting; in another, martyrs; in another, killing; in another, roadblocks and searches. What's the sense of it?"
Nearby, another man, Nurulla, is waiting along with Jan Mohammed and dozens of others for the chance of an odd job loading or unloading cargo onto the passing trucks. The truck stop is the only economic hub for miles around and looks busy as arriving and departing vehicles kick up huge clouds of dust over the road. But there are more men here than jobs and many will go home empty-handed.
Manipulated Youth
Nurulla says he remembers 9/11 but it seems like a long, long time ago.
"We saw on television they attacked the Twin Towers. I forget where I was at that time," Nurulla says. "Ever since I was old enough to notice I have a right hand and a left hand, we have been fighting. I have adapted to it, but we are tired of this war and even more tired of having no work. These days, when you look for work even as a day laborer you can't find it. So we stand close to the highway and sometimes load the cars."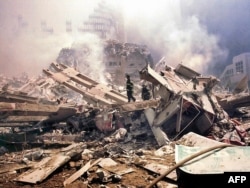 Firemen walk amid the smouldering rubble of the World Trade Center following the terrorist attacks in New York of September 11, 2001.
Does anybody know in detail what happened on 9/11 and feel like the war in Afghanistan is part of a larger global struggle against a common enemy: terrorism?
It takes some looking to find such a person, but finally we do meet him at a roadside market north of Kabul, in Kapisa Province.
"My information about 9/11 is that an airplane controlled by Al-Qaeda hit a building in America and a lot of people were killed," Abdulrahim says. "After that, America and the world felt they should do something to destroy Al-Qaeda and other terrorist groups active in the world. They came to Afghanistan to find the root of the problem and remove it."
Abdulrahim, who is a shopkeeper, is the kind of person the international forces in Afghanistan need to explain their presence if they are to succeed in marginalizing the Taliban and, along with Afghan forces, secure the country. So, we ask what it is that makes him such a supporter of the new order when so many others are filled with doubts.
The reason, he says, is the suicide bombings.
"In Kapisa Province, we have suicide attacks and we have lost several close friends. We condemn suicide attacks. According to Shari'a, too, this is wrong," Abdulrahim says. "Those who organize them are misusing the young generation and misleading them with evil ideas. The suicide attacks kill innocent people and we hear of them almost every day. Our wish is for the American and other international forces to destroy the bases of these groups. We know there is a high cost, but we support that."
For him, the suicide bombings are the daily echoes of 9/11 and the common link between what happened in New York and Washington 10 years ago and what is happening in Afghanistan today.
Not everybody hears the echoes that way. But for those who do, it is a convincing argument for trying to root out terrorism before foreign forces withdraw and Afghanistan is on its own.
That date is now set to come in three more years.
In July, the United States withdrew the first of some 10,000 troops due to leave the country this year, with all combat troops to be out by 2014. Washington's NATO partners are following a similar timetable.
interviews conducted by RFE/RL Radio Free Afghanistan correspondent Sayaed Jan Sabawoon; with additional reporting by Radio Free Afghanistan correspondent Zarif Nazar in Prague; written by RFE/RL correspondent Charles Recknagel in Prague