As the new school year kicked off on September 1, some 35 ethnic Uzbek children attending the Cholpon school in the district of Kara-Suu in southern Kyrgyzstan began their studies in a whole new language -- Kyrgyz.
Cholpon is one of a growing number Uzbek schools that will be providing first-graders with the language alternative, as part of a broader initiative by a group of parents and Uzbek community representatives in Osh Province.
"My daughter studies in Kyrgyz at the Cholpon school," says Mavluda Hakimova, an ethnic Uzbek parent in Kara-Suu. "Our family decided that getting education in the state language would give her a wider choice when she goes to university for further education. Besides, it will be easier for her to find a job once she graduates."
And Hakimova says there is no hidden hand forcing the decision: "It's the parents' idea," she says. "It's about the children's future."
Community leaders behind the initiative also believe it will foster integration in the region, which is still recovering from deadly ethnic violence that broke out in June 2010.
Eventually, Kyrgyz language classes should be introduced in all Uzbek schools, says Amonullo Iminov, an ethnic Uzbek and member of Osh City Council. He also proposes that the hours of teaching Kyrgyz should be increased in high schools.
Running The Risk Of More Ethnic Discontent?
In the province's Kara-Suu district, the plan has been only partly realized, with about 20 of the districts 27 Uzbek schools offering the Kyrgyz-language option. But the program is showing initial success, according to Makhira Abdukarimova, principal of Cholpon school.
"We might need to open more such classes in the future, because of the increasing number of ethnic Uzbek parents have been asking to place their children in the Kyrgyz class," says Abdukarimova. "This year our Kyrgyz-language class can only accommodate 35 children."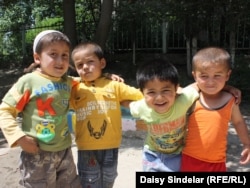 It is hoped that the Kyrgyz-language initiative will help remove communication barriers and improve interethnic relations.
Critics of the initiative warn that the promotion of Kyrgyz-language education could, rather than promoting ethnic harmony, lead to more discontent among Uzbeks.
Concerns have been raised that the switch from Uzbek to Kyrgyz as their primary language of education could be seen as discriminatory by Uzbeks, says Abdumomun Mamaraimov, a local independent analyst.
But others, including people within the Uzbek community, are already planning for phase two.
Molding A Generation Of True Patriots
Author and journalist Erkin Baynazarov says he and some 50 of his fellow ethnic Uzbeks have held meetings with the public, proposing to have only Uzbek language and literature classes taught in Uzbek and all other classes in the state language, Kyrgyz.
This could offer more opportunities for Uzbek students whose choices upon completion of their studies have dwindled.
For example, an Uzbek-funded university in the southern city of Jalal-Abat, a popular choice for Uzbek school graduates, was destroyed during last year's violence. Apart from several local universities that offer Uzbek-language education, graduates of Uzbek schools face difficulties furthering their education in their mother tongue.
But for Baynazarov and other supporters of the gradual switch to the Kyrgyz language, there is a greater goal -- improved interethnic relations.
Principal Abdukarimova, an ethnic Uzbek herself, explains why she thinks the issue of language can serve as a barrier.
"Sometimes I think the language issue was one of the reasons that contributed to stirring up last year's conflict," says Abdukarimova, who is an ethnic Uzbek herself. "I think all children should be able to speak the state language. Then language barriers between different communities disappear and people would be able to better communicate with each other."
"Hence we're trying to arrange the all-Kyrgyz study classes, because just having Kyrgyz lessons two-three times a day is not enough. In addition, our Kyrgyz teacher is conducting Kyrgyz classes for [ethnic Uzbek] teachers, because adults too, should be able to speak the language."
Rahmon Nazarov the head of Kara-Suu education department hopes education in the state language would help the future generation to think beyond ethnic lines, and become "true patriots."
"If, from the very beginning, regardless of ethnic background, we start to teach all children the state language, history, and culture, in 10 years' time we will get a generation of real patriots," he says. "We're working in that direction."
written by Farangis Najibullah, based on reporting by RFE/RL's Kyrgyz Service