About
Videos can be uploaded to Pangea on Video or Video batch upload page. It is also possible to receive UGC User generated content from users. Or link external video. If your internet is slow or video file is too big or you have more videos to upload use Video batch upload. You can upload video of any below pictured video formats and maximum size up to 2048 MB.
Video Tutorial
User Guide
Upload new video to CMS
Go to New > Multimedia > Video. Hit Choose File button and select video to be uploaded. Select Watermark if required than watermark logo will be burned into the video file, for the RFE/RL services we have prepared the customized watermark. This works only when uploading video not afterwards. Switch to Content tab and fill mandatory information > Save.
Search for uploaded video
Uploaded videos can be found in Search > Multimedia > Video.
You can filter search by selecting Site or Date. New uploaded video will be shown grayed with Waiting clock icon in Status until ready for use. Once video is encoded you receive system popup message or email depending on settings in your user profile in Pangea CMS. To edit video hit Edit icon.
Video edit options
On Edit video page you can obtain embed code in Embedded Code iframe field that can be used in widgets or snippets. It is also possible to Trim the beginning and the end of the video. And set as Screenshot representing the video image from the actual video. Decide if users will be able to download the video by marking Show download link checkbox. This option works for both - Desktop and/or Responsive website.
Eventually you can attach to the beginning of video RFE Intro by checking Show Intro video checkbox. Finally you can also upload the video to YouTube account by checking the profile in Multimedia Distribution field.

To set up YouTube Distribution profile send us Request.
Multimedia sharing options

Switch from Video to Content tab.
Scroll down to the bottom of page.
Hit Multimedia Sharing Options.
Check Enable Multimedia Sharing.
Select all regions that apply.
Video will be available to other
Pangea users under specified
sharing regions. And those users
will be notified.
RFE/RL Source
Switch to Content tab. Mark Send to RFE/RL Source checkbox if you would like to share your video content with our affiliates (Reuters, BBC, Local TV and Radio stations). You can also mark already uploaded content . The checkbox is unchecked by default.
Set video notifications in your profile
Click on your login name in right corner in Pangea CMS > My account.
Select preferred notification method from drop down menu for defined scenarios. For more information read tool tips by mouse over on the ? icon.
Create video from external source
CMS > New > Multimedia > Video > Web Address (URL).
General field is mandatory other fields are optional. Supported protocols are HTTP / HTTPS / FTP and file extensions FLV or MP4 . Mobile and High definition allows you to link lower or higher quality stream. URL of external thumbnail file represents the video image. (JPEG,PNG,GIF,TIFF,BMP)
Upload video from web site as user
Add this part to URL of your site /default.aspx?modal=userupload
For example: http://www.rferl.org/default.aspx?modal=userupload
It is possible to upload any multimedia type maximum up to 200MB.
Supported formats for each type of multimedia are listed in the form.
As all UGC content you will find it under Search > UGC Review.
You can use this link as banner or make it part of your menu navigation.
Here you can find more information about Video resolution.
Social Media
When uploading videos to Facebook automaticaly from Pangea CMS, we have added the link to the original source, the same as we have it for YouTube.
Multiple bitrate for on-demand videos to download
In order to improved user's experience and react on the different bandwidth connection we are introducing the possibility to choose the quality of video download.
Media file size, quality and format is retrieved from original file uploaded into CMS - currently we are working on the support of full HD.
​
Multiple Video (Batch) Upload
If you have single video and good internet connection use Video upload page. Video batch upload page serves to upload several video files at the time and at higher speed because it uses new fast infrastructure.​
To upload videos navigate to New > Multimedia > Video Batch Upload
Select video files for upload using the Select files button or drag and drop from another window. Selected files will start to upload immediately. By default the videos are saved in Draft Status. If you need Watermark please select it before selecting the files for upload. Hit Expand icon (blue down arrow) in Actions column to start specifying the zone title and description.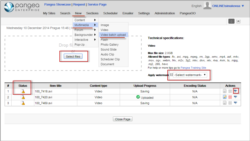 While the file is still uploading you can already start to select zone fill title and description. You can also change the Status from Draft to Published. To save your changes hit Update button. Once the video is ready and encoded you will receive a system notification and video will be searchable in CMS.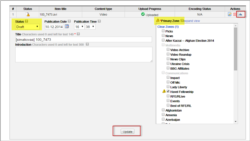 Wait until the upload is complete > Hit Edit (Pencil) icon in Actions column for more detailed video editing. Video upload page opens where you can Preview the video or Trim the video. You may also locate and edit the video using Search > Multimedia > Video .
For more information refer to Video guide.